Dinner on Stage: Welcoming Maria Manuela Goyanes
Saturday, October 13, 2018
---
Thank you for joining us for Dinner on Stage!
We hope you enjoyed experiencing Woolly from a whole new perspective. From watching immersive pop-up performances to mingling in the scene shop with our company members, this signature Woolly event could not exist without your tremendous support. We raised over $85,000 to support Woolly's groundbreaking artistic and connectivity programming. Your generosity helped us exceed our expectations, making this year's Dinner on Stage the biggest one yet!   
Click here to read Maria Manuela Goyanes' remarks from the 2018 Dinner on Stage!
Click here to browse our photo gallery from the event, or view selected photos below!
---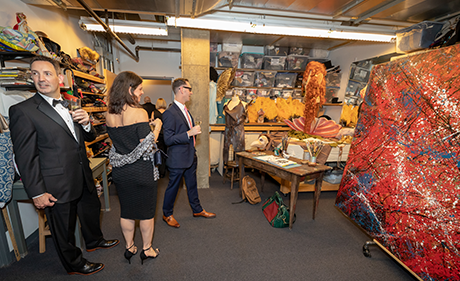 Thank you to OUR 2018 sponsors!
---
Lead Sponsor
Hines/Qatari Diar, developers of CityCenterDC
---
Sponsors
David S. Cohen & Craig A. Benson
Elizabeth & Paul L. Friedman      
Craig Pascal & Victor Shargai
TD Bank
---
Host Committee
Anonymous
Donna Ari
Mark & Cindy Aron
J. Chris Babb & James Martin
​Louis & Bonnie Cohen
Jane & Nathan Fishkin
Michael Fitzpatrick & Miriam Gonzales
Linette S. Hwu
Jenny & Chuck Lawson
Catherine MacNeil-Hollinger & Mark Hollinger
Mary McIntosh & Dan Abele
Hilary B. Miller & Dr. Katherine N. Bent
Pete Miller & Sara Cormeny
Louisa & William Newlin
Jonathan Poling & Malcolm McCluskey
Scott B. & Evelyn Schreiber
Barbara L. Strack
Arthur Warren & Jim Pridgen
---
Catering Sponsor
Well Dunn Catering