Build-Your-Own Subscriptions
Design your own Woolly experience with your own selection of our upcoming plays: all the comedies, all the premieres, all the plays by women, or any other combination you might dream up!
---
1: Pick Your Package
2: Pick Dates & Seats
---
How many packages would you like?
Which plays would you like to include?
By Danai Gurira
Directed by Adam Immerwahr

FEBRUARY 5-MARCH 11, 2018
It's winter in Minnesota, and an immigrant Zimbabwean family is preparing for the wedding of their eldest daughter. But when the bride insists on observing roora, a traditional bride-price ceremony, it opens a deep rift in the household. Rowdy and affectionate, Familiar pitches tradition against assimilation among the members of one devoted family. Which will prove stronger: the customs they keep… or the secrets they've kept buried?
Familiar—the fourth Woolly production by Tony-nominated playwright Danai Gurira, after successful runs of Eclipsed (2016 Tony nominee for Best Play), The Convert, and In the Continuum—is Woolly's entry into the Women's Voices Theater Festival. Directed by Theater J artistic director Adam Immerwahr, one of Gurira's long-time collaborators.
Featuring company member Shannon Dorsey and designs by company member Colin K. Bills
Familiar is made possible by a generous gift from Joan & David Maxwell
---
Part of the 2018 Women's Voices Theater Festival. Purchase a 2018 WVTF Festival Pass on TodayTix today!
---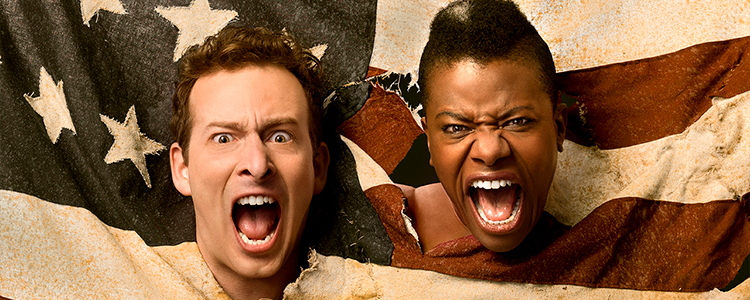 The Ars Nova Production of Underground Railroad Game
By Jennifer Kidwell and Scott R. Sheppard with Lightning Rod Special
Directed by Taibi Magar

APRIL 4 - APRIL 29, 2018
At Hanover Middle School, two teachers get shockingly down and dirty with a lesson about race, sex, and power. The quick-witted duo goes round after round on the mat of our nation's history in an R-rated, far-reaching, and absolutely unflinching comedy.
Underground Railroad Game is a fourth-wall-breaking, audience-implicating, "in-all-ways sensational" (New York Times) experience. You will never forget which side of history you were on.
2017 Obie Award Winner, Best New American Theatre Work
---
By Jordan Tannahill
Directed by Marti Lyons

MAY 28-JUNE 24, 2018
Sandro Botticelli is devoted to beauty, sensuality, and pleasure. While painting The Birth of Venus, however, the limits of his dedication are put to the test by the arrival of a conservative priest leading a populist revolution in Lorenzo de' Medici's Florence. When his full-throttle, decadent ways catch up to him, will the famed artist sacrifice his work… or the life of his young apprentice, Leonardo Da Vinci?
Botticelli in the Fire is an ambitious, modern story that sets the present political moment ablaze. The American premiere of this new work by Jordan Tannahill—"the hottest name in Canadian theatre" (Montreal Gazette)—will bring Woolly's 38th season to a searing close.
Featuring company members Cody Nickell, Jon Hudson Odom, and Dawn Ursula
---
---
Add at least 3 more to continue