Build-Your-Own Subscriptions
Pick three, four, or five plays from our upcoming season and design your own experience: all comedies, all premieres, all plays by women, or any other combination you might dream up!
---
1: Pick Your Package
2: Pick Dates & Seats
---
How many packages would you like?
Which plays would you like to include?
by Max Frisch
In a new translation by Alistair Beaton
directed by Michael John Garcés
SEPTEMBER 5-OCTOBER 8, 2017
The world may be starting to burn, but George Betterman has it all under control. He's a respected member of his community with a loving wife and a flourishing business, so surely the arsonists will spare him. As an upstanding citizen, he's even happy to do his civic duty by opening his home to two new guests… but when they start filling his attic with drums of gasoline, will the fire hit too close to home?
Written as a reflection on the rise of both Nazism and Communism, The Arsonists has uncanny new relevance today in light of the rise of populist nationalism around the globe. For Woolly's incendiary take on Max Frisch's classic comedy, artistic director Howard Shalwitz makes his long-awaited return to the Woolly stage, lighting the fuse on the theater's 38th season.
Join us after every performance of The Arsonists for a community conversation: a chance to investigate what will surely be a play worth digging into!
Featuring company members Colin K. Bills, Michael John Garcés, Tim Getman, Kimberly Gilbert, Misha Kachman, Jared Mezzocchi, Ivania Stack, Emily Townley, and artistic director Howard Shalwitz
The Arsonists is made possible by a generous grant from The Roy Cockrum Foundation.
The Second City Presents Nothing to Lose (But Our Chains)
By Felonious Munk
Directed by Anthony LeBlanc and Mick Napier
NOVEMBER 11-DECEMBER 31, 2017
The one-and-only Felonious Munk returns to Woolly Mammoth to headline a new show from the creators of last year's runaway hit, Black Side of the Moon… and this time, he's put his own life story on the line!
He's a thought-provoking standup comic, a TV personality, and an all-around good father and man… but he used to be a drug dealer, a convict, and a dangerous-ass mothafucka. Nothing to Lose (But Our Chains) tells the hilarious and harrowing story of how one Black man went from six years in a state prison to a six-figure job in corporate America to a new life as an activist and satirist. Performed by Felonious and a cast of Chicago's sharpest comedians, the latest installment in the long-running partnership between Woolly and The Second City will combine sketch, stand-up, and music to remind us that true freedom comes only from within.
By Danai Gurira
Directed by Adam Immerwahr

FEBRUARY 5-MARCH 4, 2018
It's winter in Minnesota, and an immigrant Zimbabwean family is preparing for the wedding of their eldest daughter, a first-generation American. But when the bride insists on observing roora, a traditional bride-price ceremony, it opens a deep rift in the household. Rowdy and affectionate, Familiar pitches tradition against assimilation among the members of one devoted family. Which will prove stronger: the customs they keep… or the secrets they've kept buried?
Familiar—the third Woolly production of Gurira's work, after successful runs of Eclipsed (2016 Tony nominee for Best Play) and The Convert—is Woolly's entry into the Women's Voices Theatre Festival.
Featuring company member Shannon Dorsey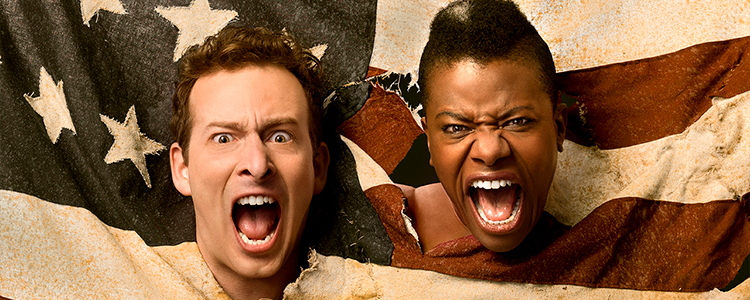 The Ars Nova Production of Underground Railroad Game
By Jennifer Kidwell and Scott R. Sheppard with Lightning Rod Special
Directed by Taibi Magar

APRIL 4 - APRIL 29, 2018
At Hanover Middle School, two teachers get shockingly down and dirty with a lesson about race, sex, and power. The quick-witted duo goes round after round on the mat of our nation's history in an R-rated, far-reaching, and absolutely unflinching comedy.
Underground Railroad Game is a fourth-wall-breaking, audience-implicating, "in-all-ways sensational" (New York Times) experience. You will never forget which side of history you were on.
2017 Obie Award Winner, Best New American Theatre Work
By Jordan Tannahill
Directed by Marti Lyons

MAY 28-JUNE 24, 2018
Sandro Botticelli is devoted to beauty, sensuality, and pleasure. While painting The Birth of Venus, however, the limits of his dedication are put to the test by the arrival of a conservative priest leading a populist revolution in Lorenzo de' Medici's Florence. When his full-throttle, decadent ways catch up to him, will the famed artist sacrifice his work… or the life of his young apprentice, Leonardo Da Vinci?
Botticelli in the Fire is an ambitious, modern story that sets the present political moment ablaze. The American premiere of this new work by Jordan Tannahill—"the hottest name in Canadian theatre" (Montreal Gazette)—will bring Woolly's 38th season to a searing close.
Featuring company members Cody Nickell, Jon Hudson Odom, and Dawn Ursula
---
Add at least 3 more to continue