World Premiere
The Sensational Sea Mink-ettes
February 4, 2024 - March 3, 2024
Feb 4, 2024
Sunday
8:00 PM
Feb 6, 2024
Tuesday
8:00 PM
Feb 7, 2024
Wednesday
8:00 PM
Feb 8, 2024
Thursday
8:00 PM
Feb 9, 2024
Friday
8:00 PM
Feb 11, 2024
Sunday
7:00 PM
Feb 11, 2024
Sunday
7:00 PM
Feb 14, 2024
Wednesday
8:00 PM
Feb 15, 2024
Thursday
8:00 PM
Feb 16, 2024
Friday
8:00 PM
Feb 17, 2024
Saturday
3:00 PM
Feb 17, 2024
Saturday
8:00 PM
Feb 18, 2024
Sunday
2:00 PM
Feb 21, 2024
Wednesday
8:00 PM
Feb 22, 2024
Thursday
8:00 PM
Feb 23, 2024
Friday
8:00 PM
Feb 24, 2024
Saturday
3:00 PM
Feb 24, 2024
Saturday
8:00 PM
Feb 25, 2024
Sunday
2:00 PM
Feb 25, 2024
Sunday
7:00 PM
Feb 28, 2024
Wednesday
8:00 PM
Feb 29, 2024
Thursday
8:00 PM
Mar 1, 2024
Friday
8:00 PM
Mar 2, 2024
Saturday
3:00 PM
Mar 2, 2024
Saturday
8:00 PM
Mar 3, 2024
Sunday
2:00 PM
Mar 3, 2024
Sunday
7:00 PM
The Sensational Sea Mink-ettes
BY Vivian J.O. Barnes
DIRECTED BY Taylor Reynolds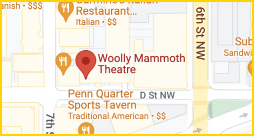 Stadium Lights.

✨

Screaming Fans.

🤩

One Shot at Excellence.

💣

 
The Sensational Sea Mink-ettes are days away from their Homecoming half-time dance performance and the pressure is on. The student body, the administration, the alumni, their families — everyone is expecting perfection. As the big day creeps closer, the women must contend with flaring tempers, bodies pushed to their limits, and what it means to be a team in Vivian J.O. Barnes' funny and surprising world premiere play.
Accessibility Dates
ASL INTERPRETED PERFORMANCES
Saturday, February 17th, 8pm
Sunday, February 25th, 2pm
OPEN CAPTIONED PERFORMANCES
Wednesday, February 21st, 8pm
Thursday, February 22nd, 8pm.
Audio Described PERFORMANCES
Saturday, February 17th, 3pm
Saturday, February 24th, 3pm
Talk Backs (Immediately Following)
To be announced at a later date.
Developmental support provided through the Weissberg Commissions funded by the Weissberg Foundation. Vivian J.O. Barnes is a recipient of a Venturous Playwright Fellowship supported by Venturous Theater Fund. The Fellowship was created with the Lark Theatre and is now in partnership with the Playwrights' Center.