BLKS
February 4 - March 3, 2019
By Aziza Barnes
Directed by Nataki Garrett
Approximately two hours, without an intermission
---
After a bad health scare, Octavia decides to put off her troubles and blow off some serious steam with her friends June and Imani. Will one last epic night on the town—a true test of their friendship full of outrageous, absurd encounters—lead to epiphany or disaster?
BLKS is a "raw, blistering, hilarious, and engaging" (Chicago Sun-Times) new work that responds to a number of cultural icons, from Lena Dunham's Girls to Seinfeld to August Wilson. Poet and playwright Aziza Barnes' new play celebrates queerness and sisterhood as three twentysomething black women wrestle with love, uncomfortable truths, and the anguish of adulting in New York City.
Directed by Woolly company member Nataki Garrett
Featuring Woolly company member Shannon Dorsey
---
BLKS is made possible by a generous gift from Evelyn & Scott Schreiber
---
---
Please be advised that this production contains instances of haze, smoking, and flashing lights.
WOOLLY DOES NOT OFFER ADVISORIES ABOUT SUBJECT MATTER, AS SENSITIVITIES VARY FROM PERSON TO PERSON. IF YOU HAVE ANY QUESTIONS ABOUT CONTENT, PLEASE CONTACT OUR BOX OFFICE AT 202-393-3939.
---
"Irreverent and exuberant play, saturated in race and sexuality... part romantic sitcom, part existential reflection"
Washington Post
"BLKS is a triumph"
Broadway World
"Raucous, riotous, and full of heart"
Brightest Young Things
"A thought-provoking, joy-filled ride"
Washington Informer
"A joy ride from start to finish"
Washington City Paper
"A rapid-fire, laugh-out-loud comedy"
DC Metro Theater Arts
"Laugh-out-loud funny, all night long"
Chicago Tribune
"A raunchy, action-packed adventure comedy"
Washington Post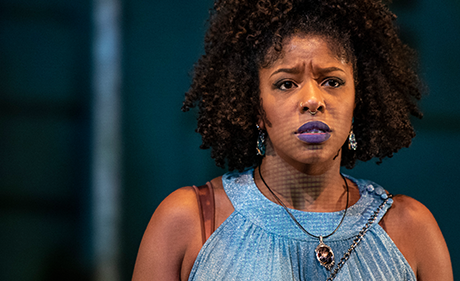 About the Playwright: Aziza Barnes
AZIZA BARNES (Z or Aziza) is blk & alive. Winner of the 2015 Pamet River Prize, Aziza's first full length collection, i be but i ain't, is from YesYes Books 2016. Aziza is a Cave Canem Fellow and co-host of the podcast The Poetry Gods. Aziza's play BLKS premiered at Steppenwolf. Graduate of New York University and participant in the 2016 Ojai Playwrights Conference.
About the Director: Nataki Garrett
NATAKI GARRETT (she/her/hers) is a Denver-based director, writer, producer and educator. She is the Associate Artistic Director of the Denver Center for the Performing Arts and the former Associate Artistic Director of CalArts' Center for New Performance (CNP), as well as the Associate Dean and the Co-Head of Undergraduate Acting for CalArts School of Theater. She is a recipient of the several awards including the MAP Grant and the NEA/TCG Career Development Program for Directors. Garrett is the co-Artistic Director of BLANK THE DOG PRODUCTIONS (BTD) a LA/NYC based ensemble Theater Company, which is celebrating its 10th year and is dedicated to developing and fostering new work by emerging, adventurous and experimental artists. She has directed across the United States, in Rwanda, and in Europe. She is a member of the Stage Directors and Choreographers. In addition to her freelance directing career, she has worked as an arts administrator with more than 15 years in non-profit and arts education.
About the Cast
ALINA COLLINS MALDONADO (Ry) (she/her/hers) is an actress and theater educator making her Woolly Mammoth debut. NYC credits: Where Words Once Were (Lincoln Center) DC credits: King John (Folger Theatre) world premieres of Digging Up Dessa, Where Words Once Were (The Kennedy Center TYA) Much Ado About Nothing (The Shakespeare Theatre Company) El Paso Blue, Mariela en el desierto, Los empeños de
una casa (GALA Hispanic Theatre) The Smartest Girl in The World, Robin Hood, Óyeme, the beautiful (Imagination Stage) for colored girls who have considered suicide / when the rainbow is enuf (Theater Alliance) How We Got On, The Last Days of Judas Iscariot (Forum Theatre) The Heidi Chronicles, Hunting and Gathering (REP Stage) The Good Counselor (1st Stage). Education: BA in Theater Performance and Gender, Sexuality, and Women's Studies from Virginia Commonwealth University
alinacollinsmaldonado.com
Instagram: alina.collinsmaldonado
---
CYNDII JOHNSON (Octavia) (she/her/hers) is thrilled to make her Woolly Mammoth Debut. Regional Credits include How We Got On at The Cleveland Playhouse, Remix 38 andThe Christians at The Humana Festival, Our Town, and The Tens: Urban Legend at Actors Theatre of Louisville, where she was an Acting Apprentice in the Professional Training Company. Education: Wright State University, BFA in Acting.
---
SHANNON DORSEY (Imani) (she/her/hers) returns to Woolly, where she was nominated for the Helen Hayes Award for Outstanding Supporting Actress for An Octoroon. Other Woolly credits include Familiar, Kiss; All the Way (Arena Stage), A Christmas Carol (Ford's Theatre), the Helen Hayes Award-winning A Midsummer Night's Dream and Carmen (Kennedy Center/Synetic Theater); Unexplored Interior (Mosaic Theater Company); Two Trains Running (Round House Theatre); Skeleton Crew, Marcus; or the Secret of Sweet, In the Red or Brown Water, and Breath, Boom (Studio Theatre); Stick Fly (Everyman Theatre); and The Shipment (Forum Theatre). Regional credits include Safe House and The Trip to Bountiful (Cincinnati Playhouse in the Park); A Raisin in the Sun (Perseverance Theatre); The Great MacDaddy (Negro Ensemble Company NYC); The Power of the Trinity (NYC SummerStage); and The Man Who Ate Michael Rockefeller (West End Theatre NYC). Shannon received her B.A. in Communications, Theater, and African-American studies at Temple University. She thanks God for the abundance of love and support from her family and friends.
Instagram: cooldiscoshann
---
TATIANA WILLIAMS (June) (she/her/hers) is thrilled to be making her Woolly Mammoth debut in BLKS! Some recent credits include Smart People (Denver Center); The Royal Family, A Christmas Carol (Guthrie Theater); Katori Hall's Pussy Valley (Mixed Blood Theatre); Girl Shakes Loose (Penumbra Theater); BLKS reading (Ojai Playwrights Festival); Prometheus Bound (Getty Villa Malibu); Tatiana received her BFA from CalArts. Additional training: Interlochen Arts Academy. Special thanks to my family and tribe for their love and support.
Instagram: simonesunrise1
---
MADELINE JOEY ROSE (That Bitch on the Couch) (she/her/hers or they/them/theirs) is thrilled to work with Woolly Mammoth for the first time! Recent D.C.-area credits include the world premieres of Trayf (Theater J—Associate Artist 2017-2018) and Hooded, Or Being Black for Dummies (Mosaic Theater Company), Year of the Rooster (Single Carrot Theatre), TAME. (WSC Avant Bard), The Heidi Chronicles (Rep Stage), The Last Night of Ballyhoo (Theater J), Three Sisters / No Sisters (u/s - Studio Theatre). Madeline holds a B.A. in Theatre and Women/Gender/Sexuality Studies from Hampshire College. She is the creator/performer of the nationally touring solo show MOM BABY GOD, which has been workshopped and performed locally at Forum Theater, Single Carrot, Taffety Punk, and Theater Alliance.
madelinejoeyrose.com
---
JUSTIN WEAKS (Justin) (he/him/his)  returns to Woolly Mammoth after appearing in Gloria earlier this season. D.C. area credits include: Gem of the Ocean (Round House Theatre); Long Way Down, Bud, Not Buddy and Darius & Twig (The Kennedy Center); Curve of Departure (Studio Theatre); Word Becomes Flesh  [Helen Hayes Award for Outstanding Supporting Actor, Outstanding Ensemble], Still Life With Rocket and Dontrell, Who Kissed the Sea (Theater Alliance); Charm (Mosaic Theater Co.); The Christians [Helen Hayes nomination] (Theater J); Lobby Hero (1st Stage). Additional regional and New York appearances include New York Theatre Workshop, Cincinnati Playhouse in the Park, Shakespeare & Company, Barter Theatre, and Hamlet Isn't Dead. Education/Training: Greensboro College (B.A. in Theatre). Mr. Weaks can be seen later this season at Woolly Mammoth in Describe the Night. Upcoming: the premiere of The Watsons Go To Birmingham 1963 at The Kennedy Center.