Botticelli in the Fire
MAY 28-JUNE 24, 2018
By Jordan Tannahill
Directed by Marti Lyons
Approximately two hours and fifteen minutes with one intermission
---
Sandro Botticelli is devoted to beauty, sensuality, and pleasure. While painting The Birth of Venus, however, the limits of his dedication are put to the test by the arrival of a conservative priest leading a populist revolution in Lorenzo de' Medici's Florence. When his full-throttle, decadent ways catch up to him, will the famed artist sacrifice his work… or the life of his young apprentice, Leonardo Da Vinci?
Botticelli in the Fire is an ambitious, modern story that sets the present political moment ablaze. This new work by Jordan Tannahill—"the hottest name in Canadian theatre" (Montreal Gazette)—will bring Woolly's 38th season to a searing close.
Featuring company members Cody Nickell, Jon Hudson Odom, and Dawn Ursula and designs by company members Misha Kachman, Colin K. Bills, and Ivania Stack
Botticelli in the Fire is made possible by a generous gift from Scott & Evelyn Schreiber
---
Please be advised that this production contains airborne peanut allergens, cigarette smoke, and haze.
Woolly does not offer advisories about subject matter, as sensitivities vary from person to person. If you have any questions about content, please contact our box office at 202-393-3939.
---
"The show itself is a total Renaissance panty-dropper, a queer-as-fuck mashup of Cabaret and Red and La Cage aux Folles"
Washington City Paper
"This is an unpredictable "only at Woolly" experience you won't want to miss."
Broadway World
"A delightful romp through history full of anachronism, unabashed queerness, and a gleeful disregard for even the concept of a fourth wall—all of which adds up to an explosive kick-off to Pride Month."
DC Theatre Scene
"It's hard to imagine a better show than Botticelli in the Fire to see during Pride Month."
DC Metro Theater Arts
"A boldly modern and sexy reimagining of historical gay characters in Renaissance Florence"
Washington Blade
"A celebratory mix of the sacred and profane that is sure to please"
MD Theatre Guide
"Historically free-spirited fantasia"
Washington Post
"Odom anchors the show, and he anchors it well, but in this cast of seven there are no weak links."
Brightest Young Things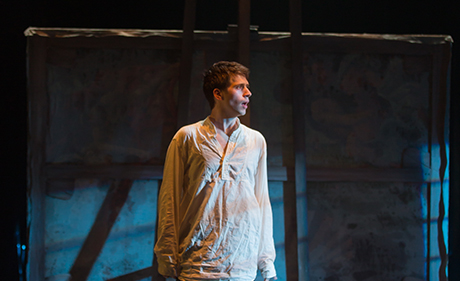 About the Playwright: Jordan Tannahill
JORDAN TANNAHILL (Playwright) is a Canadian playwright and filmmaker. His work has been presented in theatres, festivals, and galleries across Canada and internationally.

Jordan's plays have been honored with various prizes including the 2014 Governor Generals Award for Drama for his book Age of Minority: Three Solo Plays, the 2014 John Hirsch Prize for directing, and Dora Awards for Outstanding New Play for rihannaboi95 in 2013 and Concord Floral in 2015. Concord Floral also received the 2015 Carol Bolt Award and was shortlisted for the 2016 Governor General's Award for Drama. In 2016 Botticelli in the Fire & Sunday in Sodom won the Toronto Theatre Critics Award for Best New Play and its production at Canadian Stage received the Dora Award for Outstanding Production.

From 2008-2016, Jordan wrote and directed plays through Suburban Beast, a Toronto-based theatre company he founded with Rae Powell and later ran with Erin Brubacher. The company's work was staged in theatres, art galleries, a car garage, a frat house, and YouTube, and frequently involved performances by non-traditional performers.

From 2012-2016, in collaboration with William Ellis, Jordan ran the alternative art space Videofag out of their home in Toronto's Kensington Market neighborhood. Over the four years of its operation, Videofag became an influential hub for queer and avant-garde work in Canada. Jordan's production of Sheila Heti's All Our Happy Days Are Stupid, produced and directed with collaborator Erin Brubacher, premiered at Videofag in 2013 and went on to sold-out productions at Toronto's Harbourfront Centre's World Stage and New York City's The Kitchen in 2015.

His book Theatre of the Unimpressed: In Search of Vital Drama, published by Coach House Press in 2015, was called "essential reading for anyone interested in the state of contemporary theatre and performance" by The Globe and Mail. It is currently on the curriculum of several North American universities.

Tannahill has been alternatively described in the press as "the future of Canadian theatre" (NOW Magazine), "the hottest name in Canadian theatre" (Montreal Gazette), and "the poster child of a new generation for whom 'interdisciplinary' is not a buzzword but a way of life" (The Globe and Mail).
About the Director: Marti Lyons
MARTI LYONS (Director) most recently directed The Wolves by Sarah Delappe at Studio Theatre and Guess Who's Coming to Dinner for the Court Theatre in Chicago. Marti has also recently directed Native Gardens by Karen Zacarías for Victory Gardens Theatre, Twelfth Night for Montana Shakespeare, The Mystery of Love and Sex by Bathsheba Doran for Writers Theatre, Short Shakes! Romeo and Juliet for Chicago Shakespeare Theatre, Wit for The Hypocrites, Give It All Back by Calamity West for Sideshow Theatre, and The City of Conversation by Anthony Giardina for Northlight Theatre Company. She directed Wondrous Strange by Meg Miroshnik, Martyna Majok, Jen Silverman, and Jiehae Park for the Humana Festival at Actors Theatre of Louisville, as well as Will Eno's Title and Deed for Lookingglass Theatre Company and a reading of Martín Zimmerman's On the Exhale for the New Stages Festival at Goodman Theatre, where she received the 2015 Maggio directing fellowship. Other projects include Laura Marks' Bethany, Marks' Mine, and Will Nedved's Body and Blood for The Gift Theatre; Catherine Trieschmann's Hot Georgia Sunday and Theresa Rebeck's Seminar for Haven Theatre; Prowess by Ike Holter, The Peacock by Calamity West, and The Last Duck by Lucas Neff for Jackalope Theatre; The Play About My Dad by Boo Killebrew for Raven Theatre; Mai Dang Lao by David Jacobi, 9 Circles by Bill Cain, Maria/Stuart by Jason Grote, and co-directing The Golden Dragon for Sideshow Theatre. Next Marti will direct Shakespeare in Love for Illinois Shakespeare Festival, Witch by Jen Silverman for Writers Theatre, Kings by Sarah Burgess for Studio Theater, Macbeth for Chicago Shakespeare Theater, and Cambodian Rock Band by Lauren Yee for Victory Gardens Theater. Marti is an ensemble member with the Gift Theatre Company, an Artistic Associate with Sideshow Theatre Company, and a proud member of SDC. www.martilyons.com
Meet the Cast
JON HUDSON ODOM (Sandro Botticelli) An Octoroon (Woolly Mammoth Theatre), Angels in America parts 1 & 2 *Helen Hayes nomination (Round House and Olney Theatre  Center), The Magic Play (Actors Theatre of Louisville), A Christmas Carol (McCarter Theatre Center), Twelfth Night (Center Stage Baltimore), The Magic Play, Piano Lesson, Our Town, Hay Fever and Colossal *Helen Hayes nomination (Olney Theatre Center) Nat Turner in Jerusalem and Passion Play *Helen Hayes Award (Forum Theatre) Father Comes Home From the Wars parts 1,2 & 3 (Round House Theatre), Yellowman (Rep Stage), You Can't Take It With You (Everyman Theatre), A Christmas Carol and Our Town (Ford's Theatre), 2-2-Tango (Studio Theatre), Under the Skin (The Public Theatre ME), A Few Good Men (Keegan Theatre), Reals (Theater Alliance DC), The BFG *Helen Hayes nomination (Imagination Stage and The National Children's Theatre), The Ramayana (Constellation Theatre) A Christmas Carol (Goodman Theatre). He is a company member at Woolly Mammoth Theatre, an Artistic Associate at Olney Theatre Center, and a member of The Ensemble at Forum Theatre in DC. Education: University of North Carolina School of the Arts.
---
ALYSSA WILMOTH KEEGAN (Clarice Orsini) is thrilled to be working with Woolly Mammoth for the first time. Other credits include: Kennedy Center: Digging Up Dessa; Mosaic Theater: The Return; Olney Theater Center: Fickle: A Fancy French Farce and Bad Dog (Helen Hayes Award nomination Outstanding Ensemble); Ford's Theatre: Come From Away (Helen Hayes Award nomination, Best Supporting Actress in a Musical; Helen Hayes Award winner, Outstanding Ensemble); Roundhouse Theatre: Cat on A Hot Tin Roof (Helen Hayes Award winner, Best Lead Actress in a Play) and Becky Shaw; Imagination Stage: The Night Fairy; Folger Theater: Richard III; No Rules Theater Co.: Late: A Cowboy Song and Stop Kiss; Studio Theater: Contractions; Theater J: The History of invulnerability; Baltimore Center Stage: The Container; American Shakespeare Center: more than 30 productions including 15 of Shakespeare's canon; Broadway: Thomas the Tank Engine Live On Stage; and Off-Broadway: LaMama: Agamemnon. Education: M.F.A. Academy for Classical Acting, Shakespeare Theater. Upcoming: Woolly Mammoth: Gloria
---
CODY NICKELL (Lorenzo Di Medici) returns to the Woolly stage, where he has been previously seen in Baby Screams Miracle, Clybourne Park, In The Next Room or The Vibrator Play, and Stupid Fucking Bird. Other DC productions include many performances at The Folger Theatre as well as Shakespeare Theatre and Studio Theatre. For three seasons Cody was the Artistic Associate at Gulfshore Playhouse where favorite productions included All My Sons, Jacob Marley's Christmas Carol, and most recently Constellations. Cody's work has taken him to theaters all over the country including Portland Center Stage, Santa Cruz Shakespeare, The Wilma Theatre, Playmakers Rep, The Arden Theatre, Syracuse Stage, and Two River Theatre. Cody is the recipient of the Connecticut Critics Circle Award for Best Actor, and a three-time nominee for The Robert Prosky Helen Hayes Award. He is a graduate of the Carnegie Mellon University School Of Drama.
---
EARL T. KIM (Poggio du Chullu) is an international actor, theatre-creator, filmmaker, and performance artist currently based in Los Angeles, California.  His work has been seen on stages in Australia, New Zealand, Canada, Ireland, Japan, South Korea, Russia, the United Kingdom, and throughout the US. He is proud to be making his Metro DC theatre debut with Woolly Mammoth and is honored to be a part of this production. His short film Han was awarded 'Best Narrative Short' after premiering at the 2017 DC Asian Pacific American Film Festival, and he was recently named a '2018 Filmmaker to Watch' by the LA Dance Film Festival. He holds an MFA in Acting from East 15 Acting School in London, and a BFA in Contemporary Performance from Naropa University in Boulder, Colorado.
Selected Credits: Film/Television- Avengers: Age of Ultron, Han, Shameless (Showtime), Crazy Ex-Girlfriend (CW), Training Day (CBS), 2 Broke Girls (CBS) Radio- The Octoroon (BBC Radio 3), Theatre- Merica (Vortex/Gale Theatre Co. - Austin), Book of Days (Arcola - London), Macbeth (Shakespeare's Globe - London), The Three Sisters (GITIS-Moscow), Cabaret (QPAC/Zen Zen Zo Physical Theatre- Aus/NZ)
---
CRAIG WALLACE (Girolamo Savanarola) is thrilled to be returning to Woolly Mammoth for Howard Shalwitz's final season as Artistic Director. Other Woolly credits include Starving, Our Lady of 121st Street and The Last Orbit of Billy Mars. Locally, Craig has performed in numerous theatres across the DC area. Most recently he appeared as Sam in Master Harold and the Boys at Round House Theatre, and Willy Loman in Death of a Salesman and Scrooge in A Christmas Carol (recurring) at Ford's Theatre. Regionally, he has performed all over the country including Shakespeare Theatre of New Jersey and Actors Theatre of Louisville. Craig received his BFA at Howard University, an MFA from The Pennsylvania State University and also studied at The National Theatre in London.
---
DAWN URSULA (Madre Maria) was last seen at Woolly in Zombie: The American by Robert O'Hara, directed by Howard Shalwitz, earning a Helen Hayes nomination. Other Woolly credits include Polignac/Mrs. Sauce in Marie Antoinette directed by Yury Urnov, The Totalitarians directed by Robert O'Hara, Black Woman/Actor 6 in We Are Proud to Present..., earning a Helen Hayes nomination, directed by Michael John Garcés who also directed her as Prudence in The Convert by Danai Gurira, for which she received a 2014 Helen Hayes Award. Also a company member with Everyman Theatre, she was recently seen in The Revolutionists by Lauren Gunderson and Intimate Apparel by Lynn Nottage. She earned a 2016 Helen Hayes award for her performance in Queen's Girl in the World by Caleen Sinnette Jenning's at Theatre J and will reprise the role at Everyman Theatre next season. Dawn has performed locally and regionally with theatres such as Olney, Round House, Arena Stage, Hangar, True Colors, the Kennedy Center, Rep Stage, Imagination Stage, and African Continuum Theater Company and holds other awards and nominations. Television credits include HBO's The Wire and PBS' Prince Among Slaves. She is a founding member of Galvanize and mentored by Vera J. Katz.
---
JAMES CRICHTON (Leonardo Da Vinci) is honored to be making his Woolly Mammoth debut. Off Broadway: Jasper in Deadland; National Tour: Peter and the Starcatcher; Regional: The Taming of the Shrew (Shakespeare Theatre Company), The Last Ship (Pioneer Theatre Company), Sweeney Todd (Finger Lakes Musical Theatre Festival), & I Love You, You're Perfect, Now Change (Sharon Playhouse). Proud member of AEA. Graduate of Hofstra University. Thanks to Wolf Talent Group, Maria Dizzia, Chris Brick, and his family.