Fairview
September 9 - October 6, 2019
By Jackie Sibblies Drury
Directed by Stevie Walker-Webb
Approximately 100 minutes, with no intermission
---
Something is keeping me from what I could be.
And that something, It thinks that it has made me who I am.
---
Beverly insists the celebration for Grandma's birthday be perfect. But her husband is useless, her sister is into the wine, and her daughter's secrets are threatening to derail the day. Meanwhile a group of spectators has put them all under surveillance. Soon the voyeurs launch an invasion on the festivities, forcing the family to battle for their very identities. Jackie Sibblies Drury (We Are Proud to Present…) returns to Woolly to boldly confront our perceptions of racism in America by ripping the conventional family drama to shreds.
Featuring work by Woolly company members Shannon Dorsey, Kimberly Gilbert, Cody Nickell, Colin K. Bills, Misha Kachman, and Ivania Stack
Winner of the 2019 Pulitzer Prize for Drama
New York Times Best Theater of 2018
---
---
"FAIRVIEW is a game-changing original work about race, challenging us as much as it entertains, and ultimately shattering the lenses with which we see each other. There is no better way to announce my ambitions than to produce a play as exciting and thorny as FAIRVIEW. Plus Stevie Walker-Webb (Ain't No Mo' at The Public Theater) is an astounding director who I am excited to not only dig into this material with but also to introduce him to DC audiences."
- Maria Manuela Goyanes, Artistic Director
---
---
CONTENT TRANSPARENCY: FAIRVIEW contains profanity, depictions of racism, and a request for audience participation that is designed to be fully accessible.
For a detailed summary of the show, INCLUDING SPOILERS, please click here. If you have further questions about any content please contact our box office at 202.393.3939.
---
"This play aims to make you uncomfortable. And that's a good thing."
Washington Post
"You should see it. White person, black person. Any person. And listen. Now."
DC Theatre Scene
"Explosive, riveting, and totally unique"
DC Metro Theater Arts
"Has you saying "wow" days after, as you reflect on the ingeniousness of the concept and the crafting"
Metro Weekly
"A social thriller that explores the intersection of race and surveillance"
MD Theatre Guide
"Totally original and memorable"
Theatre Travels
"This is one of those occasions in which gauging an audience's reaction is a bona fide spectator sport"
Washington Post
"Outstanding, frustrating, hilarious, and sui generis"
The New Yorker
"An elegant appeal for justice, tangible action, and the urgent need for new stories about black families"
MD Theatre Guide
"A glorious, scary reminder of the unmatched power of live theater to rattle, roil and shake us wide awake"
New York Times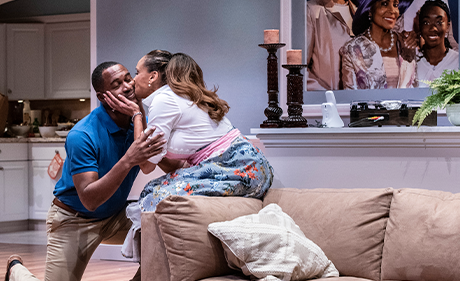 About the Playwright
JACKIE SIBBLIES DRURY's (Playwright) plays include Marys Seacole (OBIE Award), Fairview (2019 Pulitzer Prize), Really, Social Creatures, and We Are Proud to Present a Presentation About the Herero of Namibia, Formerly Known as South West Africa, From the German Sudwestafrika, Between the Years 1884-1915. The presenters of her plays include Lincoln Center Theatre, Soho Rep., Berkeley Rep, New York City Players & Abrons Arts Center, Victory Gardens, Trinity Rep, Woolly Mammoth, Undermain Theatre, InterAct Theatre, Actors Theater of Louisville, Company One, and Bush Theatre. Drury has developed her work at Sundance, Bellagio Center, Ground Floor at Berkeley Rep, Soho Rep. Writer/Director Lab, New York Theatre Workshop, Bushwick Starr, LARK, and MacDowell Colony, among others. She has received the Susan Smith Blackburn Prize, a Jerome Fellowship at The LARK, a United States Artists Fellowship, a Helen Merrill Playwriting Award, and a Windham-Campbell Literary Prize in Drama.
About the Director
STEVIE WALKER-WEBB (Director) is an Obie Award winning director, performing artist, and cultural worker, a former 2050 Fellow at New York Theatre Workshop and recipient of the Princess Grace Award for Theatre. Off-Broadway: Jordan E. Cooper's Ain't No Mo' at The Public Theatre. His upcoming projects include the world premiere of One In Two by Donja Love with The New Group in New York City and Esai's Table by Nathan Yungerberg at Cherry Lane. He is the Founding Artistic Director of the Jubilee Theatre in Waco, Texas, holds an MFA from The New School, a BS in Sociology from the University of North Texas, and is an Emerge-NYC alumnus. Stevie is overjoyed and honored to be making his Woolly premiere with the powerful work of Jackie Sibblies Drury. steviewalkerwebb.net
About the Cast
NIKKI CRAWFORD's (Beverly) recent credits include a recurring role as Valerie St. Martin in the series Crown Lake and starring roles as Detective Brecht in the Lifetime movie Deadly Dance and Officer Martin in the feature How To Deter A Robber. Regional theatre: Lena Horne in Stormy Weather at the Pasadena Playhouse (NAACP Best Actress Theatre Award winner and LA Ovation Best Featured Actress nomination); the Lady of the Lake in the 1st Las Vegas Company of Spamalot (Named Vegas Showstopper of the year); Aldonza in Man of La Mancha at La Mirada Theatre; Ronnie in Immediate Family at the Mark Taper Forum; Julie in Showboat at Sacramento Music Circus; Lady Liv in Play On! at Arena Stage (Helen Hayes Award Best Supporting Actress nom); Blues in the Night, Seattle Rep; Leonard Bernstein's Mass, Hollywood Bowl. Past TV: Julie Martin in Warner Brother's award winning series H+; Criminal Minds; Pretty Little Liars; Switched at Birth; Legit, Happily Divorced; Malcolm in the Middle & PBS Great Performances of Play On!
---
SAMUEL RAY GATES (Dayton) is a company member in his third season at PlayMakers Repertory Company, where he has appeared in Life of Galileo, Skeleton Crew, Leaving Eden, and Dot. Regional: All the Way (Theatre Squared), Between Riverside and Crazy (American Conservatory Theater), Alabama Story (Pinoeer Theatre Company), Satchel Paige and the Kansas City Swing (Martha's Vineyard Playhouse), The Muscles in our Toes (Labyrinth Theater Company), Clybourne Park (Cincinnati Playhouse), Trinity River Plays (Dallas Theater Center, Goodman Theatre), In the Red and Brown Water (McCarter Theatre Center), Electra (Classical Theatre of Harlem). Film/Television: November Criminals, Wolves, Person of Interest, Veep, Mozart in the Jungle, Two Night Stand, The Blacklist, House of Cards, Queen City, Boadwalk Empire, Unforgettable, The Men Who Stare at Goats, Kings, Law & Order, Law & Order: Criminal Intent, Rescue Me. MFA, American Conservatory Theater.
---
SHANNON DORSEY (Jasmine) returns to Woolly, where she was nominated for the Helen Hayes Award for Outstanding Supporting Actress for An Octoroon. Other Woolly credits include BLKS, Familiar, Kiss; All the Way (Arena Stage), A Christmas Carol (Ford's Theatre), the Helen Hayes Award-winning A Midsummer Night's Dream and Carmen (Kennedy Center/Synetic Theater); Unexplored Interior (Mosaic Theater Company); Two Trains Running (Round House Theatre); Skeleton Crew, Marcus; or the Secret of Sweet, In the Red or Brown Water, and Breath, Boom (Studio Theatre); Stick Fly (Everyman Theatre); and The Shipment (Forum Theatre). Regional credits include Safe House and The Trip to Bountiful (Cincinnati Playhouse in the Park); A Raisin in the Sun (Perseverance Theatre); The Great MacDaddy (Negro Ensemble Company NYC); The Power of the Trinity (NYC SummerStage); and The Man Who Ate Michael Rockefeller (West End Theatre NYC). Shannon received her B.A. in Communications, Theater, and African-American studies at Temple University. She thanks God for the abundance of love and support from her family and friends. Instagram: @cooldiscoshann
---
CHINNA PALMER (Keisha) has appeared in ​Mothering While Black (​Young Playwrights Theatre), ​In the Red and Brown Water ​(Ira Aldridge Theatre), ​A Midsummer Night's Dream ​(Ira Aldridge Theatre)​, ​the Hothouse New Play Development (Theatre Alliance) and ​Klecksography: Collective Ink ​(Rorschach Theatre). She is a fresh graduate from Howard University, and has received additional training from the British American Drama Academy where she performed in Miss Julie and the Stronger. ​Chinna is eager to perform around the city and beyond–starting with her Woolly debut. Follow and keep up with her on Instagram @Chinna.palmer
---
CODY NICKELL (Jimbo) returns to the Woolly stage, where he has been previously seen in Botticelli in the Fire, Baby Screams Miracle, Clybourne Park, In The Next Room or The Vibrator Play, and Stupid Fucking Bird. Other DC productions include many performances at The Folger Theatre as well as Roundhouse Theatre, Shakespeare Theatre, and Studio Theatre. For three seasons Cody was the Artistic Associate at Gulfshore Playhouse where favorite productions included All My Sons, Jacob Marley's Christmas Carol, and most recently Constellations. Cody's work has taken him to theaters all over the country including Portland Center Stage, Santa Cruz Shakespeare, The Wilma Theatre, Playmakers Rep, The Arden Theatre, Syracuse Stage, and Two River Theatre. Cody is the recipient of the Connecticut Critics Circle Award for Best Actor, and a four-time nominee for Helen Hayes Award. He is a graduate of the Carnegie Mellon University School Of Drama.
---
KIMBERLY GILBERT (Suze) has been a Woolly company member since 2006 and this marks her 17th production with this theatre, which is an insane statistic. She was last seen here as Billie Irons in The Arsonists. Recent theatre credits include: Oslo, Round House Theatre; The Last Wide Open, Cincinnati Playhouse; The Panties, The Partner and The Profit, Shakespeare Theatre Company; Born Yesterday, Ford's Theatre. Very proud to be a Woolly Mammoth.
---
CHRISTOPHER DINOLFO (Mack) is thrilled to be back at Woolly Mammoth where he was last seen in Clybourne Park. Other DC Credits include: Folger: Nell Gwynn, Henry IV, Part 1; Ford's Theatre: Jefferson's Garden; Olney Theatre: Fickle, Hay Fever; Theater J: Sons of the Prophet; Arena Stage: The Normal Heart; Round House Theatre: Next Fall; Shakespeare Theatre: The Imaginary Invalid, The Alchemist; Studio Theatre: The History Boys; Adventure Theatre: The Lion, The Witch and The Wardrobe; Solas Nua: Johnny Meister and The Stitch. Television: Veep.
---
LAURA C. HARRIS (Bets) is making her Woolly Mammoth debut. Previous Washington, DC credits include The Heiress at Arena Stage, Kings, Cloud 9, Time Stands Still, Bachelorette, and Red Speedo at Studio Theatre, The Flick and Tender Napalm at Signature Theatre, NSFW, Seminar, Amadeus, Young Robin Hood, and 26 Miles at Round House Theatre, Vicuna at Mosaic Theater, Awake and Sing! at Olney Theatre Center, Love and Information, Passion Play, World Builders, and Amazons and Their Men with Forum Theatre, Our Class at Theatre J, The Winter's Tale and The School for Scandal at Folger Theatre, and An Experiment with an Air Pump with Potomac Theatre Project, along with extensive on-camera and voiceover work. Laura is a graduate of Middlebury College, and can next be seen as Henrietta Leavitt in Silent Sky at Ford's Theatre. lauracharris.com