Gloria
Now Extended Thru October 7
By Branden Jacobs-Jenkins
Directed by Kip Fagan
Two hours, with one intermission
---
The squabbling editorial assistants at one of New York's most prestigious magazines are all chasing the same dream: a starry life of letters and a book deal before they turn 30. When an ordinary day at the office suddenly becomes a living nightmare, two survivors transform the experience into career-making stories. Which one of them will get to own the truth?
In this "whip-smart satire of fear and loathing" (New York Times)—a 2016 Pulitzer Prize finalist—MacArthur "Genius" Branden Jacobs-Jenkins skewers the cutthroat, opportunistic culture of modern media. Gloria will mark Woolly's third production of Jacobs-Jenkins' work, after An Octoroon (2016; remounted in 2017) and Appropriate (2013).
---
Gloria is made possible by a generous gift from Joan & David Maxwell
---
---
Woolly's production of Gloria includes sudden, loud gunshots. For additional context about the production, see our Content Warning below. Note: includes spoilers.
---
"You'll be unsettled by GLORIA, perhaps even haunted. The ghosts this playwright wants you to sense are hovering all around the theater, reminding us of a parasitic human penchant for getting the last word - and profiting from it."
Washington Post
"It's an explosive and thought-provoking production in more ways than one."
Broadway World
"Sometimes shocking, frequently hilarious."
DC Theatre Scene
"A stunning production of a knockout play."
DC Metro Theater Arts
"GLORIA is a really, really good comedy. And it is a really, really good drama... GLORIA holds up a mirror, whether you want it to or not."
MD Theatre Guide
"Electrifying new dark comedy"
Brightest Young Things
"A precise, incisive Washington, DC premiere"
TheaterMania
"Sharply observant and playfully theatrical, this thought-provoking work continues its talented young writer's winning streak."
Hollywood Reporter
"Such a setup may appear at first like the premise of a conventional workplace comedy, but Jacobs-Jenkins subverts such convention. By the close of the first act, any semblance of a status quo has been blown away."
DC Metro Theater Arts
"A giddily scathing sendup of office politics"
Washington Post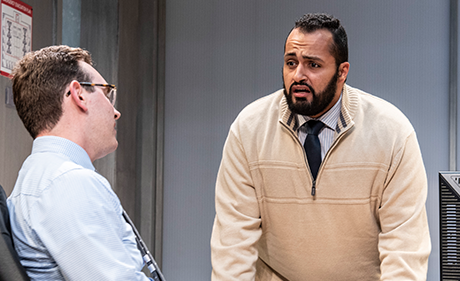 About the Playwright: Branden Jacobs-Jenkins

BRANDEN JACOBS-JENKINS (Playwright) is a NYC-based playwright. His was the recipient of the 2016 MacArthur "genius" Grant, the Windham Campbell Prize, the inaugural Tennessee Williams Award and the 2017 London Evening Standard Award winner for Most Promising Playwright. His plays include Appropriate (Obie Award), An Octoroon (Obie Award), Neighbors, War and Gloria (Pulitzer Prize Finalist). He is currently under commission with The Bridge Theatre Company in London, Manhattan Theatre Club and Steppenwolf Theatre Company to name a few. Branden received his BA from Princeton University and an MA from New York University. He is also a graduate of the Lila Acheson Wallace American Playwrights Program at Juilliard.
About the Director: Kip Fagan
KIP FAGAN (Director) Fagan has directed several of Sheila Callaghan world premieres, including That Pretty Pretty; or, The Rape Play (Rattlestick), Roadkill Confidential (Clubbed Thumb), Recess (The Flea), and Soak (Sanctuary Playwrights Theatre). He recently
directed Susan Soon He Stanton's Today Is My Birthday at Sundance Theatre Lab and Erin Courtney's I Will Be Gone at the Humana Festival. NYC: Heidi Schreck's Grand Concourse (Playwrights Horizons); Jesse Eisenberg's The Revisionist (starring Eisenberg and Vanessa Redgrave), Halley Feiffer's How to Make Friends and Then Kill Them, Eisenberg's Asuncion, and Heidi Schreck's There Are No More Big Secrets (Rattlestick); Carlos Murillo's A Thick Description of Harry Smith and Samuel D. Hunter's Jack's Precious Moment (Page 73); Reggie Watts and Tommy Smith's Radio Play (P.S. 122); Ariel Stess's I'm Pretty Fucked Up, Sheila Callaghan's Roadkill Confidential, and Rachel Hoeffel's Quail (Clubbed Thumb); Zayd Dohrn's Reborning and Cory Hinkle's Cipher (SPF); Christopher Durang's Not a Creature Was Stirring (The Flea); Greg Keller's
The Young Left (Cherry Lane); Sam Marks's Nelson (Partial Comfort); Ike Holter's Exit Strategy at Primary Stages and Philadelphia Theatre Company. Regional credits include: Alliance Theatre, Long Wharf Theatre, Williamstown Theatre Festival, George Street Playhouse, Philadelphia Theatre Company, Portland Center Stage, Marin Theatre Company, and City Theatre, among others. Co-founder of Printer's Devil in Seattle; affiliated artist at Clubbed Thumb.
About the Cast
MEGAN GRAVES (Ani / Sasha / Callie) is making her first appearance at Woolly Mammoth. She has been seen elsewhere in Translations (Studio Theatre); The Great Society and The Little Foxes (Arena Stage); A Midsummer Night's Dream and The Second Shepherd's Play (Folger Theatre); Peter and the Starcatcher (Helen Hayes Nomination, Constellation Theatre Company); Redder Blood (Helen Hayes Nomination, The Hub Theatre); and Love and Information, Passion Play, and Clementine in the Lower 9 (Forum Theatre). Other credits include work with Imagination Stage, Adventure Theatre MTC, Virginia Repertory Theatre, and The Virginia Shakespeare Festival. Megan holds a BFA in Acting from Shenandoah Conservatory and is a proud company member of Only Make Believe. Upcoming: King John (Folger Theatre).
---
JUSTIN WEAKS (Miles / Shawn / Rashaad) makes his Woolly Mammoth Theater Co. debut with Gloria. D.C. area credits include: Curve of Departure (Studio Theatre); Bud, Not Buddy and Darius & Twig (The Kennedy Center); Word Becomes Flesh (Helen Hayes Award for Outstanding Supporting Actor, Outstanding Ensemble), Still Life With Rocket and Dontrell, Who Kissed the Sea (Theater Alliance); Charm (Mosaic Theater Co.); The Christians (Helen Hayes nomination) (Theater J); Lobby Hero (1st Stage). Additional regional and New York appearances include New York Theatre Workshop, Cincinnati Playhouse in the Park, Shakespeare & Company, Barter Theatre, and Hamlet Isn't Dead. Education/Training: Greensboro College (B.A. in Theatre). Mr. Weaks can be seen in BLKS and Describe the Night later this season at Woolly Mammoth. Upcoming: the premiere of Long Way Down at The Kennedy Center. jweaks.com
---
CONRAD SCHOTT (Dean / Devin) is honored to make his Woolly Mammoth debut in his first return to DC since training at the Shakespeare Theatre Company's Academy for Classical Acting in 2012, where he performed All's Well That Ends Well and The Atheist's Tragedy in repertory. Now based in Brooklyn, Conrad has appeared Off-Broadway in The Glory of the World (BAM), 10 out of 12 (Soho Rep), and House Rules (Ma-Yi Theatre Co.). Regional credits include The Glory of the World (Humana '15), Macbeth, Dracula, Our Town, and Remix 38 (Humana '14) at Actors Theatre of Louisville, where he was previously an Acting Apprentice in the Professional Training Company. Conrad trained at the Eugene O'Neill Theater Center's National Theater Institute and BADA Midsummer in Oxford, and he received his B.A. in Drama from Vassar College before pursuing his M.F.A. at the Academy for Classical Acting.
---
EUNICE HONG (Kendra / Jenna) is thrilled to be making her Woolly Mammoth debut. Her recent theatre credits include: Hannah and the Dread Gazebo (OSF), Merry Wives of Windsor (OSF), LoveWounds (Pasadena Dance Conservatory), and The Little Mermaid (Strangemen & Co.). Eunice is a SUNY Purchase graduate (BFA/Acting). www.knaveofspades.com 
---
ALYSSA WILMOTH KEEGAN (Gloria / Nan) is thrilled to be back at Woolly Mammoth Theater. Previous credits include Botticelli in the Fire. Other DC credits include: How I Learned to Drive (Fall 2018), Cat on a Hot Tin Roof (Helen Hayes winner: Best Lead Actress in a play), Becky Shaw: Roundhouse Theater; Vanity Fair (Winter 2019): Shakespeare Theater Company; Digging Up Dessa: Kennedy Center; The Return: Mosaic Theater; Fickle: A Fancy French Farce, Bad Dog (Helen Hayes Award nomination Outstanding Ensemble): Olney Theater Center; Come From Away (Helen Hayes Award nomination, Best Supporting Actress in a Musical; Helen Hayes Award winner, Outstanding Ensemble); The Night Fairy: Imagination Stage; Richard III: Folger Theater; Late: A Cowboy Song, Stop Kiss: No Rules Theater Co.; Contractions: Studio Theater; The History of Invulnerability: Theater J; The Container: Baltimore Center Stage; American Shakespeare Center: more than 30 productions including 15 of Shakespeare's canon; Broadway: Thomas the Tank Engine Live On Stage; Off-Broadway: LaMama: Agamemnon. Education: M.F.A. Academy for Classical Acting, Shakespeare Theater. 
---
AHMAD KAMAL (Lorin) is so happy to be back at Woolly, following his previous performance in Kiss. Other credits include The Invisible Hand at Olney Theatre Center; 4,380 Nights at Signature Theatre; Love and Information, I Call My Brothers, and Blackberry Winter at Forum Theatre; The Return at Mosaic Theater; Aladdin and The Wonderful Lamp at Adventure Theatre; The Hard Problem (u/s) at Studio Theatre; Exit The King at 4615 Theatre.
Content Warning
Woolly's production of Gloria includes a realistic depiction of gun violence and suicide, using prop weapons, that occurs at the end of the first act. The second act does not include any depictions of gun violence, but it does include graphic discussions, among the characters, of the violent events at the end of act one. If you have any additional questions about content, we strongly encourage you to contact our box office at 202-393-3939.