Hir
MAY 22 - JUNE 18, 2017
By Taylor Mac
Directed by Shana Cooper
Two hours, including an intermission
---
Isaac, a veteran, returns to his childhood home and discovers that his family's been transformed. His timid mother, freed from the constraints of her marriage, has begun a crusade to subvert the patriarchy, and his sister is now a genderqueer anarchist who uses the pronouns ze and hir. Meanwhile, his abusive father now wears clown makeup and downs estrogen pills…against his will.
Obie Award-winner Taylor Mac's "audacious, uproarious black comedy" (New York Times) flips the script on gender power dynamics and asks a key question: how do we heal when our politics divide us? It's a sly kitchen-sink drama covered in glitter, and you'll laugh your way through to an answer.
Featuring company members Emily Townley and Mitch Hébert
This show contains haze, strobe effects, and sudden loud noises.
---
"Impeccable"
Washington Post
"A searing and uproarious masterwork for this cultural moment."
MD Theatre Guide
"Brilliant"
DC Metro Theater Arts
"It's crazy watchable, like some kind of substantive, impactful, topsy-turvy sitcom."
BroadwayWorld
"Unsettling and unforgettable"
DC Theatre Scene
"Blisteringly funny"
Washington City Paper
"Emily Townley is simply stellar, capturing this woman as she dances between denial, rage, hope and despair."
Metro Weekly
"Darkly funny"
Theatermania
"Not to be missed in this Taylor Mac play at Woolly Mammoth: Emily Townley's whirlwind turn as the ultraliberal mother embracing change with a fury."
Washington Post
"Woolly Mammoth is never afraid to go there. In the company's unsettling and exceedingly well-acted production of Taylor Mac's dark comedy 'Hir,' a hideously dysfunctional family becomes scarily relatable."
Washington Blade
"Smart. Dark. Difficult. Deliberately disorienting."
New York Magazine
"A remarkable, audacious, uproarious black comedy with a daring combination of realism and madcap absurdity."
New York Times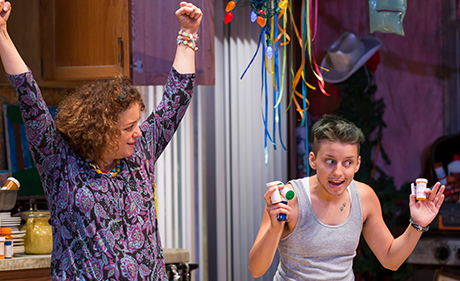 About the Playwright: Taylor Mac
TAYLOR MAC (Playwright), (who uses judy, lowercase sic, not as a name but as a gender pronoun) is a playwright, actor, singer-songwriter, performance artist, director and producer. "A critical darling of the New York scene" (NY Magazine), TimeOut NY has called Mac "One of the most exciting theater artists of our time" (naming judy a future theater legend). Judy's work has been performed at New York City's Lincoln Center, The Public Theatre and Playwrights Horizons, Los Angeles's Royce Hall, Minneapolis's Guthrie Theater, Chicago's Steppenwolf Theatre, the Sydney Opera House, Boston's American Repertory Theatre, Stockholm's SodraTheatern, the Spoleto Festival, San Francisco's Curran Theater and MOMA, and literally hundreds of other theaters, museums, music halls, opera houses, cabarets, and festivals around the globe. Judy is the author of seventeen full-length plays and performance pieces including HIR (placed on the top ten theater of 2015 lists of the New York Times, New York Magazine, and Time Out NY; published by North Western University Press and in American Theater Magazine), The Lily's Revenge (Obie Award), The Walk Across America For Mother Earth (named One of the Best Plays of 2011 by the New York Times),The Young Ladies Of (Chicago's Jeff Award nomination for best solo), Red Tide Blooming (Ethyl Eichelberger Award), The Be(a)st of Taylor Mac (Edinburgh Festival's Herald Angel Award) and in collaboration with Mandy Patinkin, Susan Stroman and Paul Ford, Mac created The Last Two People On Earth: An Apocalyptic Vaudeville. Mac is the recipient of multiple awards including the Doris Duke Performing Artist Award, a Guggenheim Award, the Herb Alpert Award in Theater, the Peter Zeisler Memorial Award, the Helen Merrill Playwriting Award and an Obie. An alumnus of New Dramatists judy is currently a New York Theater Workshop Usual Suspect and the Resident playwright at the Here Arts Center.
About the Director: Shana Cooper
SHANA COOPER (Director) is a company member at Woolly Mammoth where directing credits include The Nether and HIR. Other directing credits include Straight White Men (Studio Theater), The Unfortunates (A.C.T., SF), American Night, Romeo and Juliet (Yale Repertory Theatre); The Unfortunates (World Premiere Musical), Love's Labor's Lost, Julius Caesar (Oregon Shakespeare Festival); Venus In Fur (Seattle Rep, Arizona Theatre Company), The Taming of the Shrew, Romeo and Juliet, A Midsummer Night's Dream (California Shakespeare Theater); Camino Real (New York University MFA Program); Three Sisters (The Studio/New York); The Whale Play, Twelfth Night Parking Lot Project (New Theater House). Shana was the Associate Artistic Director of the California Shakespeare Theater (2000-2004), and also a Cofounder of New Theater House with Yale School of Drama alumni (2008-present). Awards include: 2014 U Grant – Funded by The Mellon Foundation and Administered by TCG, 2010 Princess Grace Award, Julian Milton Kaufman Memorial Prize in Directing (Yale School of Drama), Drama League Directing Fellow, TCG Observership Grant, OSF Phil Killian Directing Fellow, G. Herbert Smith Presidential Scholarship. MFA, Yale School of Drama.
Meet the Cast
MITCH HÉBERT (Arnold) is a long-time Woolly company member. He was last seen at Woolly in Clybourne Park. Other Woolly credits include The Gigli Concert, The Clean House, and Kvetch. Mitch's theater credits include The Laramie Project and The Guard at Ford's Theatre; Angels in America, Parts 1 & 2 (Roy Cohn), and the title role in Uncle Vanya at Round House Theatre. His film credits include The Hunley and Killing Kennedy, and his directing credits include Cat on a Hot Tin Roof and Glengarry Glen Ross at Round House Theatre and Rabbit Hole at Olney Theatre Center. He has received seven Helen Hayes nominations and won the award twice for After the Fall (acting) and Glengarry Glen Ross (directing). Mitch is on the faculty of The School of Theatre, Dance, and Performance Studies at The University of Maryland. 
JOSEPH J. PARKS (Isaac) is happy to be making his Woolly Mammoth debut in HIR. In New York, he played Orpheus in Sarah Ruhl's Eurydice (Second Stage Theater). Some of his regional theater credits include: The Intelligent Homosexuals Guide (Berkeley Rep), Romeo and Juliet, Eurydice, and Richard II (Yale Rep), Romeo and Juliet (Cal Shakespeare Festival), The History of Invulnerability and Love Song (Cincinnati Playhouse in the Park), Broadway Bound (The Old Globe), The Goat, Or Who is Sylvia? and Slay the Dragon (American Conservatory Theater), The Sweetest Swing in Baseball (The Magic Theater), and Wintertime (San Jose Rep). Some of Joseph's television credits include: Mozart in the Jungle, Blue Bloods, Madam Secretary, Person of Interest, and Law and Order. MFA, Yale School of Drama. 
EMILY TOWNLEY (Paige) has been a Woolly Company Member since 2009. Woolly performances include The Totalitarians (2015 Helen Hayes nomination for Best Leading Actress), Detroit, A Bright New Boise, House of Gold, Maria/Stuart, Spain, Fuddy Meers, Wonder of the World, and Watbanaland. Other local performances include the Shakespeare Theatre Company: Romeo & Juliet; Studio Theatre: Between Riverside and Crazy, Laugh (a world premiere by Beth Henley), Skin Tight, Rock 'n Roll, and A Bright and Bold Design; Signature Theatre: The Mystery of Love & Sex; Olney Theatre Center: Bad Dog (2016 Helen Hayes nomination for Best Ensemble); Round House Theatre: The Sisterhood; Everyman Theatre: Our Town; Rep Stage: The Goat, Or Who is Sylvia?; MetroStage: The Real Inspector Hound; The Washington Stage Guild: Pen, Tryst; Folger Theatre: The Tempest and The Gaming Table. Regional credits include The Game's Afoot and All My Sons for Gulfshore Playhouse. Emily has appeared in multiple productions for the Source Theatre, Freedom Stage, and the Kennedy Center, and can be seen next season in The Arsonists here at Woolly and as Maria in Twelfth Night for the Shakespeare Theatre Company. For KWC.
MALIC WHITE (Max) is a Chicago-based performer, playwright, and gender warrior making their Woolly Mammoth debut! Chicago stage credits include Picnic (American Theater Company), Too Much Light Makes the Baby Go Blind, The Infinite Wrench, Pop Waits (Neo-Futurists), and American Idiot (The Hypocrites). Film credits include Princess Cyd, Signature Move, and The Year I Broke My Voice. Malic has been an ensemble member at the Neo-Futurist Theater since 2012, and their original performance work has been featured at the Museum of Contemporary Art, Jay Pritzker Pavilion at Millennium Park, Davenport's Piano Bar, Logan Square Auditorium, and Tour de Fat. Last year Malic co-directed and devised an accessible workshop performance of Battleaxe Betty (American Theater Company), a heavy metal musical written by their p(ART)ner, Molly Brennan. Malic's pronouns are they/ them/ theirs.