The Peculiar Patriot
April 1 - April 20, 2019
Written and Performed by Liza Jessie Peterson
Directed by Talvin Wilks
Approximately 90 minutes, with no intermission
---
Betsy LaQuanda Ross is a self-proclaimed "Peculiar Patriot," who makes regular visits to penitentiaries in order to boost the morale of her loved ones. When she is not sharing neighborhood updates and gossip, Betsy illuminates our country's cruel and unjust criminal justice system and its impact not only on the 2.5 million people behind bars, but also their family and friends.
Written and performed by the inimitable Liza Jessie Peterson and inspired by her decades-long work with prison populations including on the notorious Riker's Island, The Peculiar Patriot is a fierce, funny, and shrewd indictment of the systemic inequity within America's fastest growing industry, tracing its roots from the plantation to the prison yard.
★★★★★
Time Out New York
---
---
The Peculiar Patriot is presented in association with National Black Theatre and Hi-ARTS
---
WOOLLY DOES NOT OFFER ADVISORIES ABOUT SUBJECT MATTER, AS SENSITIVITIES VARY FROM PERSON TO PERSON. IF YOU HAVE ANY QUESTIONS ABOUT CONTENT, PLEASE CONTACT OUR BOX OFFICE AT 202-393-3939.
---
"The best way to truly care about a nation is to heal it, and Liza Jessie Peterson's solo play... is a gorgeous part of that work"
Time Out New York
"THE PECULIAR PATRIOT excels at visceral moments... even as it builds a strong case against the mass incarceration of African Americans and the effects of a racially skewed justice system"
New York Times
"A blistering critique of the American criminal justice system"
Broadway World
"A richly layered, all-out performance of the sort you tend to remember"
The Boston Globe
"Liza is connecting people inside and outside America's prison system, and she's doing it with humor, empathy and compassion"
Minneapolis Star Tribune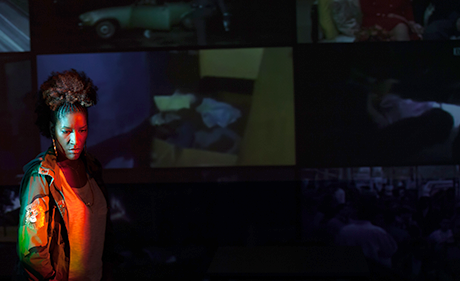 About LIZA JESSIE PETERSON
LIZA JESSIE PETERSON (Playwright and Performer) is a renowned actress, poet, playwright, educator and advocate. Liza has written several plays including her most recent one woman play The Peculiar Patriot, which embarked on a national prison tour where she performed in over 35 jails and penitentiaries across the country. She recently performed The Peculiar Patriot, opening for Angela Davis, at Columbia University's conference on mass incarceration. Her plays have been featured in notable theater festivals and performed in various theaters, nationally and internationally.
Also known for her exceptional poetic skills, Liza began her poetry career at the famed Nuyorican Poets Café in the mid-90's and was a vital member of the enclave of notable poets who were part of the "underground slam poetry/spoken word" movement before it attracted television cameras and became a national obsession. It was this electric group of artists that inspired Russell Simmons to bring "spoken word/slam poetry" to HBO where Liza appeared on two episodes of Def Poetry. She has shared the stage with luminaries such as Nona Hendryx, Toshi Reagon, Amiri Baraka, The Last Poets, Craig Harris, Vernon Reid, Rakim, Carl Hancock Rux and Sandra St. Victor to name just a few.
As an actress Liza appeared in several feature films: Love the Hard Way (costarring with Pam Grier and Academy Award winner Adrien Brody), Spike Lee's Bamboozled, K. Shalini's A Drop of Life, (co-starring with Nandita Das which was filmed in Mumbai India), and Jamie Catto's One Giant Leap/What About Me, where she was featured and interviewed along with Tim Robbins, Eckhart Tolle, Deepak Chopra, Noam Chomsky and others.
Liza has taught theater and poetry to urban and incarcerated youth for more than 15 years and counting. She created and developed The Urban Folktale Project, where her students created original plays based on their most pressing issues and performed it at several theaters around New York City. The project was so successful that it received a grant from Russell Simmons' Rush Philanthropic Arts Foundation. The Urban Folktale Project has successfully produced three plays. Liza remains steadfastly committed to this population of youth (both at Rikers Island and at community based programs) where she has discovered inspiration and light in a dark place.
About National Black Theatre
NATIONAL BLACK THEATRE (NBT) was founded in 1968 in the heart of Harlem by the late Dr. Barbara Ann Teer, an award winning, visionary artist and entrepreneur. With a distinguished history of innovative work in its community, NBT is among the oldest Black Theaters in the country, and amongst the longest owned and operated by a woman of color. NBT is also a pioneer as the first to establish revenue generating Black art complex located at 2031 5th Avenue in Harlem, NY.  NBT's achievements reflect Dr. Teer's lifelong commitment to community service through the arts. She believed whole-heartedly in the power of Black Theatre to uplift, strengthen, and heal Black communities on a local and on a national level.
About HI-ARTS
HI-ARTS (formerly known as the Hip-Hop Theater Festival) is a leading organization within the urban arts movement. For over seventeen years, Hi-ARTS has consistently broken new ground, advancing urban art by empowering artists to develop bold new works, while creating a lasting and positive impact on urban communities. Hi-ARTS is adding to the legacy of the HHTF at an exciting stage of growth that engages Hip-Hop while creating the new urban arts. With the move to our permanent home at El Barrio's Artspace PS 109, Hi-ARTS is poised to grow into new realms of artistry, advocacy, and service to the communities in which we live and create.