The Peculiar Patriot
April 1 - April 20, 2019
Written and Performed by Liza Jessie Peterson
Directed by Talvin Wilks
Approximately 90 minutes, with no intermission
---
Betsy LaQuanda Ross is a self-proclaimed "Peculiar Patriot," who makes regular visits to penitentiaries in order to boost the morale of her loved ones. When she is not sharing neighborhood updates and gossip, Betsy illuminates our country's cruel and unjust criminal justice system and its impact not only on the 2.3 million people behind bars, but also their family and friends.
Written and performed by the inimitable Liza Jessie Peterson and inspired by her decades-long work with prison populations including on the notorious Riker's Island, The Peculiar Patriot is a fierce, funny, and shrewd indictment of the systemic inequity within America's fastest growing industry, tracing its roots from the plantation to the prison yard.
★★★★★
Time Out New York
---
---
The Peculiar Patriot is presented in association with National Black Theatre and Hi-ARTS
---
Please note that The Peculiar Patriot does not have an intermission and concessions will only be open before the show.
---
Please be advised that THE PECULIAR PATRIOT contains instances of flashing lights.
WOOLLY DOES NOT OFFER ADVISORIES ABOUT SUBJECT MATTER, AS SENSITIVITIES VARY FROM PERSON TO PERSON. IF YOU HAVE ANY QUESTIONS ABOUT CONTENT, PLEASE CONTACT OUR BOX OFFICE AT 202-393-3939.
---
"An understated protest play working hard to keep hope alive"
Washington Post
"Riveting, eye-opening, and deeply personal"
Broadway World
"A blend of infectious humor, audiovisual spectacle, and stunning statistics"
DC Theatre Scene
"Entertaining and enlightening and definitely worth your time and attention"
Theatre Travels
"THE PECULIAR PATRIOT excels at visceral moments... even as it builds a strong case against the mass incarceration of African Americans and the effects of a racially skewed justice system"
New York Times
"The best way to truly care about a nation is to heal it, and Liza Jessie Peterson's solo play... is a gorgeous part of that work"
Time Out New York
"A richly layered, all-out performance of the sort you tend to remember"
The Boston Globe
"[THE PECULIAR PATRIOT] bristles with life… from the invitingly personal to the explicitly political"
Washington Post
"Liza is connecting people inside and outside America's prison system, and she's doing it with humor, empathy and compassion"
Minneapolis Star Tribune
"Ms. Peterson's performance is nothing less than extraordinary"
Broadway World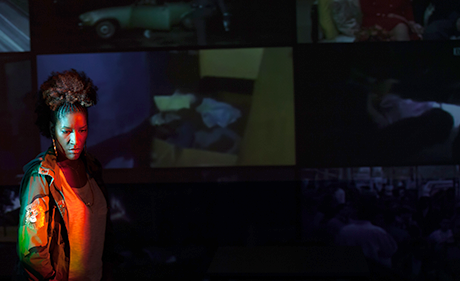 About LIZA JESSIE PETERSON
LIZA JESSIE PETERSON (Playwright and Performer) is an actress, playwright, poet, author and youth advocate who has been steadfast in her commitment to incarcerated populations both professionally and artistically for over two decades. Her critically acclaimed one woman show, The Peculiar Patriot, premiered at The National Black Theater in Harlem for two separate runs, was nominated for three Audelco Awards (Best solo performance, light design and sound design) and had a successful sold out run at Arts Emerson in Boston garnering rave reviews from both The New York Times and The Boston Globe and a five star review in Time Out NY. In June of 2018, The Peculiar Patriot was awarded a generous grant from Agnes Gund's prestigious Art for Justice Fund and as a result of that funding is set to embark on a national tour. During the early years of the play's uncanny trajectory and true to her artivist nature, Liza performed The Peculiar Patriot in over 35 penitentiaries across the country in a self funded prison tour spanning the course of four years.
Liza is author of ALL DAY; A Year of Love and Survival Teaching Incarcerated Kids at Rikers Island (Hachette). She was featured in Ava DuVernay's Emmy award winning documentary The 13th (Netflix) and was a consultant on Bill Moyer's documentary RIKERS (PBS).
Also known for her exceptional poetic skills, Liza began her poetry career at the Nuyorican Poets Café and was a vital member of the enclave of notable poets who were part of the "underground slam poetry" movement. It was this electric group of artists that inspired Russell Simmons to bring "spoken word" to HBO where Liza appeared on two episodes of Def Poetry.
In addition to The Peculiar Patriot, Liza has written several plays which received development support from The Lark, Syracuse Stage, The McCarter Theater, Manhattan Theater Club, and The Flynn Theater.
Down the Rabbit Hole is currently in residency at The Flynn Theater in Vermont followed by SistahGurls and the Squirrel in development at both The Lark and Manhattan Theater Club in NY.
As an actress Liza appeared in several feature films: Love the Hard Way (costarring with Pam Grier and Adrien Brody), Spike Lee's Bamboozled, K. Shalini's A Drop of Life, and Jamie Catto's What About Me. She can be seen in an upcoming webseries A Luv Tale produced by Sidra Smith and directed by Kay Oyegun (This Is Us, Blackish).
Visit her website at lizajessiep.com.
About Talvin Wilks
TALVIN WILKS (Director) is a playwright, director and dramaturg based in New York City and Minneapolis. His plays include Tod, the boy, Tod, The Trial of Uncle S&M, JImmy and Lorraine, and As I Remember It with Carmen de Lavallade. Acclaimed directorial projects include the world and regional premiere productions of UDU by Sekou Sundiata, The Love Space Demands by Ntozake Shange, The Shaneequa Chronicles by Stephanie Berry, The Ballad of Emmett Till and benevolence by Ifa Bayeza, This Bitter Earth by Harrison David Rivers, The Peculiar Patriot by Lisa Jessie Peterson and ongoing collaborations with Ping Chong's series Undesirable Elements and Collidescope: Adventures in Pre- and Post-Racial America. Dramaturgical collaborations include major works with Bebe Miller Company, Camille A. Brown and Dancers, Urban Bush Women, Ain Gordon, MIA/Jon Boogz/Lil Buck, and Baba Israel. He is currently an Assistant Professor of Theatre Arts and Dance at the University of Minnesota/Twin Cities.
About National Black Theatre
NATIONAL BLACK THEATRE (NBT) was founded in 1968 in the heart of Harlem by the late Dr. Barbara Ann Teer, an award winning, visionary artist and entrepreneur. With a distinguished history of innovative work in its community, NBT is among the oldest Black Theaters in the country, and amongst the longest owned and operated by a woman of color. NBT is also a pioneer as the first to establish revenue generating Black art complex located at 2031 5th Avenue in Harlem, NY.  NBT's achievements reflect Dr. Teer's lifelong commitment to community service through the arts. She believed whole-heartedly in the power of Black Theatre to uplift, strengthen, and heal Black communities on a local and on a national level.
About HI-ARTS
HI-ARTS (formerly known as the Hip-Hop Theater Festival) is a leading organization within the urban arts movement. For over seventeen years, Hi-ARTS has consistently broken new ground, advancing urban art by empowering artists to develop bold new works, while creating a lasting and positive impact on urban communities. Hi-ARTS is adding to the legacy of the HHTF at an exciting stage of growth that engages Hip-Hop while creating the new urban arts. With the move to our permanent home at El Barrio's Artspace PS 109, Hi-ARTS is poised to grow into new realms of artistry, advocacy, and service to the communities in which we live and create.