The Second City's She the People
December 3, 2018 - January 6, 2019
Directed by Carly Heffernan
Approximately one hour and 45 minutes, with one intermission
---
An all-female, all-star team of The Second City's most fearless, tuned-in sketch comics roasts the patriarchy and reclaims at least two hours of absolutely hilarious time. The producers of Black Side of the Moon and Nothing to Lose (But Our Chains) bring you a mimosa-and-madness-fueled foray into "having it all," having each other's backs, and having that sick feeling your government's trying to turn back the clock to the Middle Ages. She the People… in order to perform a more perfect union!
Celebrating the tenth anniversary of The Second City's first visit to Woolly!
---
PLEASE NOTE: Tickets for the last few performances of this incredibly hot show are selling out online. We do, however, hold back a limited number of Stampede Seats and standing room only tickets for every performance, which are available on a first-come, first-served basis starting two hours before each performance. Don't miss your chance to get in! Contact the box office at 202-393-3939 if you have any questions.
---
---
Please be advised that SHE THE PEOPLE contains instances of strobe lighting.
WOOLLY DOES NOT OFFER ADVISORIES ABOUT SUBJECT MATTER, AS SENSITIVITIES VARY FROM PERSON TO PERSON. IF YOU HAVE ANY QUESTIONS ABOUT CONTENT, PLEASE CONTACT OUR BOX OFFICE AT 202-393-3939.
---
"A funny, fiercely political sketch-comedy show."
Washington Post
"Bring everyone you know to see SHE THE PEOPLE."
Broadway World
"The pace is dizzying, the jokes are on-point — you'll giggle and guffaw until the lights come up."
Brightest Young Things
"SHE THE PEOPLE is a fantastic escape at a hectic time in the year (and in our nation's history)."
DC Theatre Scene
"SHE THE PEOPLE is self-aware and self-critical while being simultaneously empowering."
DC Metro Theater Arts
"Like THE VAGINA MONOLOGUES, if it were freaking hilarious - SHE THE PEOPLE is the show we need right now."
Buzz Center Stage
"One of the funniest revues Second City has produced in the past 20 years."
Chicago Sun-Times
"A laugh-out-loud wake-up call that's necessary viewing for men and women alike."
Chicago Reader
"Second City at its creative and performing best."
Chicagoland Theatre Reviews
"Empowering entertainment."
Chicago Tribune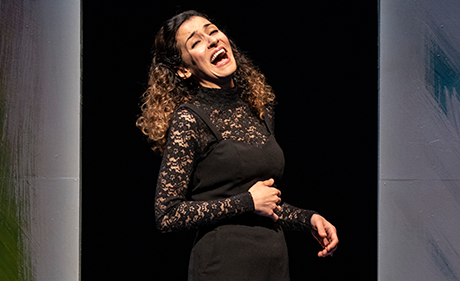 About the Director: Carly Heffernan
CARLY HEFFERNAN is an award winning alumna of the Second City Toronto where she wrote and performed in four Mainstage revues. She directed the critically acclaimed, Second City Toronto revues, Come What Mayhem! and The Best is Yet to Come Undone as well as The Second City Touring Company and several Norwegian Cruise Line shows. Select writing credits include: Second Jen (OMNI), Almost Genius (CMT), George Stroumboulopoulos Tonight (CBC), The Irrelevant Show (CBC Radio), Dr. Love (Teletoon), SketchersonsTV (Rogers). She also recently tried eyelash extensions and has never been happier.
About the Cast
ATRA ASDOU (Ensemble) is a comedian/actor/writer/director from Chicago. TV credits: South Side (Comedy Central), Chicago Med and Chicago P.D. (NBC). She stars in the award-winning comedic web series Other People's Children and is an artistic associate at Lookingglass Theatre, frequently contributes weekly satire to The Paper Macthete, and directed the critically acclaimed sketch show Teen Cudi Presents: Black Boy Joy. Atra is a 2017 Bob Curry fellow and improvises at iO CHICAGO with her Harold team, Lil' Tooties, and Whirled News Tonight. Special thanks to Woolly Mammoth and this stellar cast and production team. @AtraAsdou, AtraAsdou.com
---

CARISA BARRECA (Ensemble) is thrilled to be a part of She The People. She is an Alumni of The Second City's Resident e.t.c stage where she wrote and performed in three critically acclaimed revues. She had the honor of performing at Lyric Opera with Patrick Stewart and Renee Fleming in The Second City's Guide to the Opera, at the Kennedy Center and at Goodman Theater with Twist Your Dickens and she wrote and performed in The Hubbard Street and Second City's Collaboration, Art Of Falling. Currently, she can be seen in PopTVs show Hot Date as Sue. Special Thanks to Carly for being a mentor and friend and love to this talented cast, to Kevin, and her dear Dr. Watson. Follow her on Instagram and Twitter: @Cinderisa
---
ALEX BELLISLE (Ensemble) is thrilled to be in D.C. with She The People! A Chicago based actress and comedian, Alex is one half of the improv and sketch duo Girlish that has performed around the country including in the New York International Fringe Festival with their self-titled show. Other credits include Best of Second City, Feminine Wilds, and No Selfie Control. Alex can be seen performing with various improv groups around Chicago including "Gone Gone" at iO Theater. Alex would like to thank her family and her personal graphic designer and wife, also named Alex (you're welcome). alexbellisle.com
---
KATIE CAUSSIN (Ensemble) is originally from Springfield, VA and received her degree in Theater from Radford University. She has been an actor in Chicago for over 20 years, many of them with The Second City as part of their National Touring Company and their Theatricals shows. Most recentlwhy she appeared as Mrs. Cratchit in Twist Your Dickens at the Goodman Theater. Last year she toured around the US in The Realish Housewives of (your city here). She has also performed with Second City for the USO in the Balkans. She has performed at both the iO and Annoyance theaters in Chicago. On camera, she recently appeared in an episode of Chicago Justice on NBC and has been featured on the Onion Network's Special Report webseries.
---
KAZI JONES (Ensemble) is elated to join the cast of She The People for its Washington, DC run. Kazi is a DC based actress who has performed with theatre companies including: TBD Immersive, Theatre Prometheus, Zhanra Group, Rorschach Theatre and others around the city. She is a native North Carolinian who loves cooking, documentaries, and general revelry. Kazi is immensely grateful to The Second City for this opportunity, and to her friends and family for their support, love, and laughter.
---
MAGGIE WILDER (Ensemble) is thankful to be a part of this show! Woolly Mammoth: An Octoroon; Ford's: Who's Afraid of Virginia Woolf? (Helen Hayes, Ensemble), Jefferson's Garden; Round House: Rapture, Blister, Burn (Helen Hayes, Supporting Actress); Studio: Bad Jews, 2nd Stage: Edgar and Annabel; Rorschach: She Kills Monsters; The Hub: Failure: A Love Story (Helen Hayes, Supporting Actress), Abominable; Imagination: When She Had Wings, Aquarium; National Children's Theatre: The BFG; Adventure: Wizard of Oz; Flying V: Pirate Laureate. Maggie lives in Atlanta with her husband and puppy. One is Doug, one is Hugo; both are wonderful! Training: Boston University. maggieawilder.com
In the Lobby: A Walk Through Her World
Before the show, we invite you to explore a special display in our lobby of artwork by local artists Manal Deeb, Paulina Ganucheau, Robin Ha, and Lisa Marie Thalhammer, and their unique perspectives on what it is to be a woman in this world. Their artwork reflects a wide range of experiences; Ha combines collage with original poetry to respond to our toxic society while Ganucheau's colorful illustrations elevate the beauty, love, and happiness that is too easily forgotten. Thalhammer's work blends collage with illustration to portray confidence and empowerment, and Deeb's intensely personal and spiritual paintings call for an acceptance of our common humanity. We encourage you to explore these pieces and consider your own relationship to gender identity, and how it informs the way you move through the world.
All of the pieces in this display are available for purchase.
---


MANAL DEEB is a Palestinian-American artist who was born in Ramallah, Palestine, and currently resides in Fairfax, Virginia.
Manal studied Studio Arts at the University of Illinois in Chicago, and got her Bachelor Degree in Interdisciplinary Studies with concentration in Psychology of Art from George Mason University in Virginia.
Manal has had solo and group exhibits in cities across the United States, including New York, Chicago, Washington, DC, Richmond, Dallas, San Francisco, Spokane, Denver, Boston, Santa Fe, Woodbridge/Connecticut, and Los Angeles. Her work has also been exhibited internationally in Paris, Rome, and Cairo; London and Brighton, England; Delhi, India; Jerusalem, Palestine; Doha, Qatar; Amman, Jordan; Islamabad, Pakistan; and Malaga, Spain.
Her artworks have been featured in magazines, journals, radio interviews, TV interviews and newspapers throughout the world. Her mission and main subjects are: humanity, global cultures, creating bridges between religions, Arab women, global women issues and identity, and Palestine and the Palestinian people.
Website  //  Instagram  //  Twitter  //  Facebook
---

PAULINA GANUCHEAU is a comic artist and illustrator based in Maryland. She graduated from the Savannah College of Art and Design with a BFA in sequential art. She is the co-creator of the comic series Zodiac Starforce. Her hobbies include watching pro-wrestling, cloud photography, and following cats on Instagram.
Website  //  Instagram  //  Twitter  //  Tumblr
---

ROBIN HA grew up reading and drawing comics in Seoul, South Korea until she was suddenly transplanted to Alabama when she was fourteen by her single mother. She moved to New York City after graduating from Rhode Island School of Design and worked in the fashion industry while building up a career in comics. Since her New York Times-bestselling cookbook/graphic novel Cook Korean! was published in 2016, Robin has been sharing her cultural and personal experiences with Korean food by giving numerous talks and cooking demos. She is currently living in Washington, DC and working on her graphic novel/memoir, Almost American Girl, slated to be published by Balzer and Bray in Winter 2020. The memoir is about her move from Korea to Alabama in 1995 and her grappling with culture shock, learning English, and her new Korean step-family.
Website  //  Instagram  //  Twitter  //  Facebook  //  Tumblr
---

LISA MARIE THALHAMMER creates paintings and public murals to uplift and empower. She is the creator of DC's LOVE mural in Blagden Alley, which has become one of Washington's most photographable walls. As a feminist activist and member of the LGBTQ+ community, Lisa Marie's artworks frequently communicate messages of strength and hope. Thalhammer has exhibited her art nationally and internationally, in places such as Los Angeles, Detroit, and Vienna, Austriat in addition to her home town of Washington, DC. Her artwork has been featured in numerous publications including the Washington Post, Washingtonian, and On Tap Magazines. Most recently she was named "Best Artist" by the Washington Blade.
---
This exhibit is curated by Woolly Mammoth staff members Lexi Dever and Kristen Jackson, with assistance from Cynthia Davis and Naima Randolph.