The Fever
October 23 – November 4, 2018
By 600 HIGHWAYMEN
Written and Directed by Abigail Browde and Michael SIlverstone
Created in collaboration with Brandon Wolcott, Emil Abramyan, and Eric Southern
Approximately 70 minutes, without an intermission
---
Performed in complete collaboration with the audience, The Fever begins as a simple story about an ordinary party and evolves into a spellbinding examination of how we assemble, organize, and care for the bodies around us. Created by Obie Award-winning theater experimentalists 600 HIGHWAYMEN, The Fever tests the limits of individual and collective responsibility and our willingness to be there for one another.
---
The Fever was commissioned by The Public Theater and made possible with funding by the New England Foundation for the Arts' National Theater Project, with lead funding from the Andrew W. Mellon Foundation, The Jerome Foundation, and The Andrew W. Mellon Foundation's New York Theater Program.
---
THE FEVER is fully accessible to patrons with mobility restrictions. If you have any questions about whether the experience will be right for you, please feel free to contact our box office at 202-393-3939. Thank you!
---
"A lovely, haunting meditation on human connection, and disconnection... a poetic evocation of our mostly unspoken – and un-called upon – dependence on one another."
New York Times
"Bold and daring... a ritual that taps the sacred and the profane, the essence of human existence."
Exeunt Magazine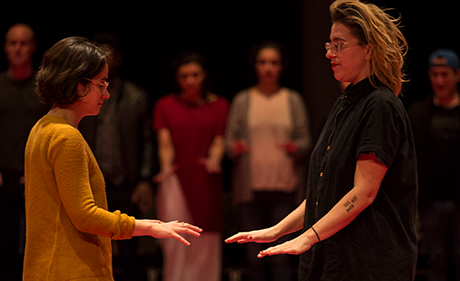 About 600 HIGHWAYMEN
600 HIGHWAYMEN is the moniker for theater artists Abigail Browde and Michael Silverstone. The duo has created 8 original works since 2009, with presentations at many national and international venues, including Under The Radar (The Public Theater), Crossing the Line (French Institute Alliance Française), River to River (Lower Manhattan Cultural Council), Abrons Arts Center, Wexner Center for the Arts (Columbus, OH), On The Boards (Seattle, WA), Centre Pompidou and Parc de la Villette (France), Festival Theaterformen (Germany), Noorderzon Festival (The Netherlands), Zürcher Theater Spektakel (Switzerland), Onassis Cultural Centre (Greece), In BetweenTime International Festival (UK), OzAsia Festival (Australia), Salzburg Festival (Austria), and many others. The group received an Obie Award in 2014 and Zurich's ZKB Patronage Prize in 2015. In 2016, Browde and Silverstone were named artist fellows by the New York Foundation for the Arts.