Howard Shalwitz and Woolly Mammoth: A TIMELINE
---
"A Statement of Artistic Intent" is written in New York by Howard Shalwitz and Roger Brady, who select the name "Woolly Mammoth" for their new theater after a late-night brainstorming binge. They visit half a dozen cities in search of the perfect location.
Following two pilot productions off-off-Broadway, Woolly Mammoth is incorporated in Washington, DC by Shalwitz, Brady, and Linda Reinisch. They hold their first auditions outdoors in Glover Park, and spend six months doing training and improvisation before launching their inaugural season.    
Performing in the Parish Hall of the Church of the Epiphany, Woolly enjoys its first big hit: Mark Medoff's The Kramer, directed by Shalwitz. Shalwitz also plays major roles in The Empire Builders and The Hothouse.
Shalwitz directs Woolly's first world premiere: Superior Attachments by DC playwright Carroll Carlson.
Woolly forms an ongoing company with actors Grainne Cassidy, T.J. Edwards, Grover Gardner, Nancy Robinette, and Michael Willis. (Today, the Woolly company has grown to 28 actors, directors, designers, and playwrights.) The company's 3-play rep of Christmas on Mars, New York Mets, and And Things That Go Bump In The Night is a triple hit that attracts thousands of new attendees.
Woolly opens in a 132-seat warehouse theater at 14th and Church Streets.  The one-year lease extends for 13 seasons, including many iconic Woolly hits: Aunt Dan and Lemon, The Day Room, The Dead Monkey, Kvetch, Goodnight Desdemona (Good Morning, Juliet), The Psychic Life of Savages, and Heaven, all directed by Shalwitz.
With Nicky Silver's Fat Men in Skirts, co-directed by Shalwitz and Lee Mikeska-Gardner, Woolly's focus officially shifts to new plays. Other works by Silver launched at Woolly include Free Will and Wonton Lust and The Food Chain, which go on to be produced at dozens of theaters across the country and around the world.
Shalwitz receives acclaim for his performance in The Gigli Concert and directs the world premiere of Doug Wright's Quills in New York and at Woolly. The play wins Obie and Helen Hayes awards and becomes a film starring Geoffrey Rush and Kate Winslet.
Shalwitz is named a "Washingtonian of the Year" in recognition of Woolly's outreach programming for young people in partnership with service organizations along the 14th Street corridor.
Woolly begins a four-year residency at both the Kennedy Center and DC Jewish Community Center, where iconic shows include Big Love, Recent Tragic Events, Homebody/Kabul, Cooking with Elvis, and Lenny & Lou (which stars Shalwitz, Jennifer Mendenhall, and Michael Russotto).
After competing for the development rights and raising $9 million, Woolly opens its permanent new 265-seat home in Penn Quarter. Mark McInturff's design wins the AIA's highest award for interior architecture. The new venue expands Woolly's repertory of new plays by Sarah Ruhl, Danai Gurira, Bruce Norris, Sheila Callaghan, Peter Sinn Nachtrieb, Jason Grote, Robert O'Hara, Lisa D'Amour, Branden Jacobs-Jenkins, and many others. It also makes room for visiting performers, including Mike Daisey, Nilaja Sun, the Second City, Neo-Futurists, and many others.
Shalwitz directs Woolly's award-winning production of Bruce Norris' Clybourne Park, featuring company members Kimberly Gilbert, Mitchell Hebert, Jennifer Mendenhall, Cody Nickell, and Dawn Ursula. The play goes on to win the Pulitzer Prize and Tony Award.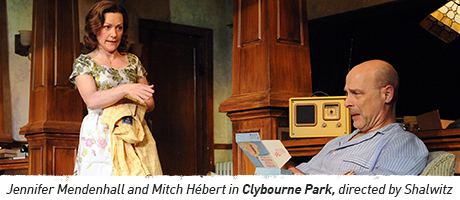 Following a two-year fundraising effort, Shalwitz launches Free the Beast!, a campaign that provides "off-the-assembly-line" enhancements for new Woolly plays. One of the first projects is Aaron Posner's Stupid Fucking Bird, directed by Shalwitz, which becomes one of the most widely-produced plays in America. Shalwitz also delivers the keynote address at the national theater conference in Boston. "Theatrical Innovation: Whose Job Is It?" advocates for new ways of bringing artists together to achieve innovative results on stage.
Shalwitz is invited to speak at the inaugural National Innovation Summit for Arts & Culture in Denver.  He outlines Woolly's "Connectivity" strategy, which treats every production as a unique platform for community outreach and civic dialogue.
Shalwitz wins the Margo Jones Award in recognition of his lifetime commitment to new American plays.